---

minä perhonen
anemone (Beige)
Book (Cousin English Edition / English / January Start)
minä perhonen creates timeless, all-original garment textiles that are specially dyed, embroidered, and woven to recreate hand-drawn designs.

anemone is a continuous pattern that lines up illustrations of flowers in a way that resembles a geometric pattern.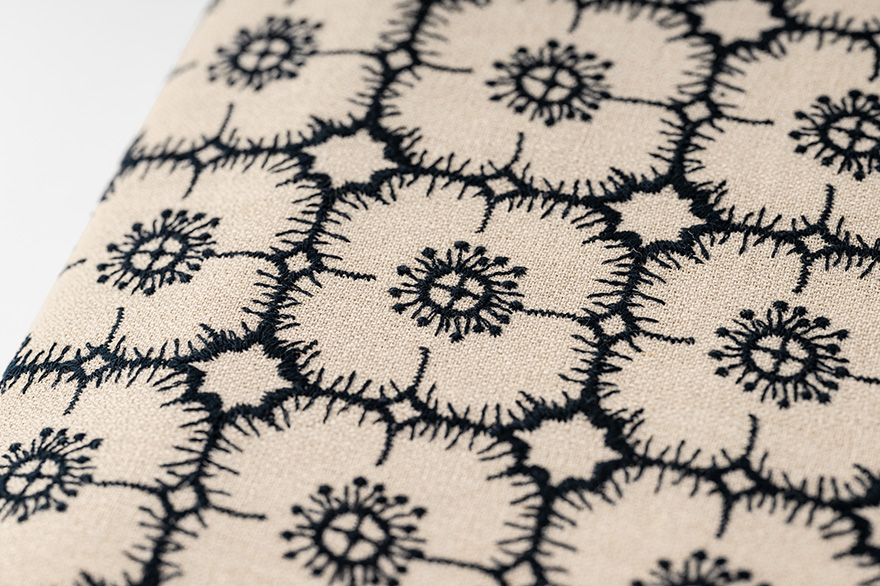 There is lace at the four corners of each flower in this light textile. The design seems to depict a field of blooming anemones swaying in the wind.

The butterfly-stopper pen holders and cover interior are a warm off-white. Two dotted lace bookmarks are attached.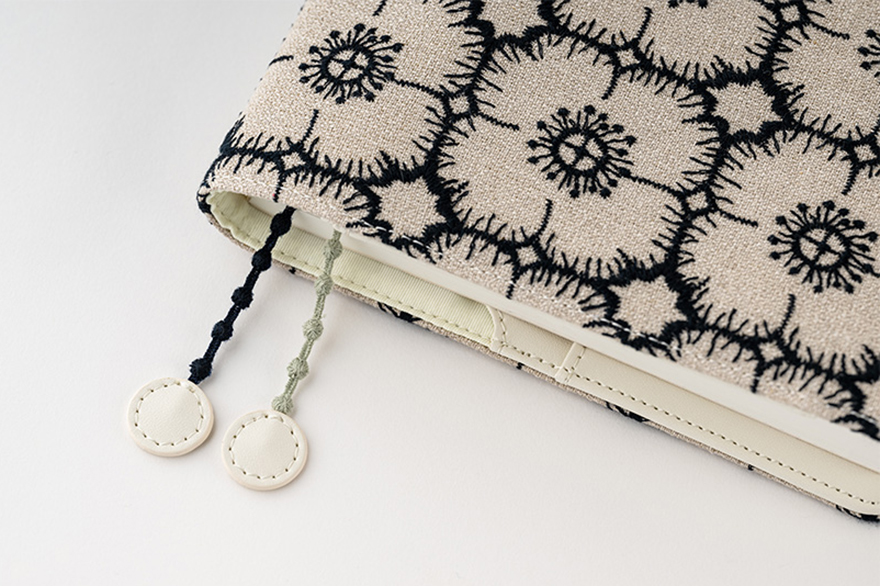 The anemone cover can blend perfectly into your daily life and make every day wonderful.
Book (Cousin English Edition / English / January Start)
Size
A5 size
H: 210 x W: 148 x T: 17 mm / H: 8.3" x W: 5.8" x T: 0.7"
*Actual book size may vary slightly

Weight
Approx. 482g
Language
English
Pages
544 Pages
Paper Type / Binding
Thin, light Tomoe River paper resistant to bleeding and designed for planners / Stitch-binding
Graph Paper Size
3.7 mm
Start of Week
Monday-start week
Yearly Calendar
2022, 2023, 2024
Yearly Index
Jan. 2023 - Dec 2023 (4 pages)
Monthly Calendar
Dec. 2022 - Mar. 2024 (32 pages)
Daily Pages
Jan. 1 - Dec. 31, 2023 (377 pages)
*A blank two-page spread is featured at the very beginning of the book to provide a free area when starting out the book.
*A page is included at the beginning of each month to help in planning ahead.
*Every two-page daily page spread includes one daily quote.
*Includes a mini monthly calendar at the bottom right of every two-page spread (Monday start).
Daily Quotes
One quote per two-page spread (English)
Weekly Pages
Dec. 26, 2021 - Dec 31, 2023 (106 pages)
Memo Pages
8 pages
Bonus Pages
Time Table / Graph Paper / Favorites / My 100 / My Favorite Things / How to Better Enjoy Conversation / Words to Remember / 365 Days Check-Off Sheet / Gifts / Addresses (for 8 people) / Personal Notes
Listed Information
Day of the year / Week of the year (listed on monthly calendars and weekly pages) / Moon phase (daily pages include every phase, monthly calendars and weekly pages only include full and new moon)