---

minä perhonen
hello swallow (White)
A6 Size (fits Planner and Original)
Book (Planner / English / January Start)
minä perhonen creates timeless, all-original garment textiles that are specially dyed, embroidered, and woven to recreate hand-drawn designs.

This design depicts swallows soaring through the vast sky as they search for a new place in the summer to raise their young. The swallows fill all the space in this design as they spread their wings and fly without hesitation in hopes of reaching a new world.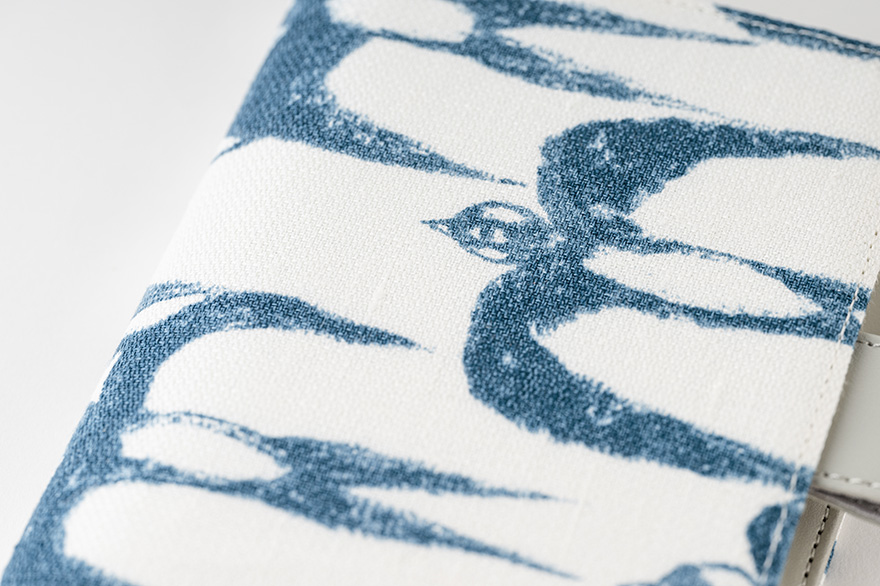 The navy print on the unbleached white fabric gives this design a light feel. All the subtle touches of the original design, including any smears and other details, are preserved in this textile that evokes the season so well you can almost smell the hint of early summer rains.

The butterfly-stopper pen holders and cover interior are bright gray. Two dotted lace bookmarks are attached.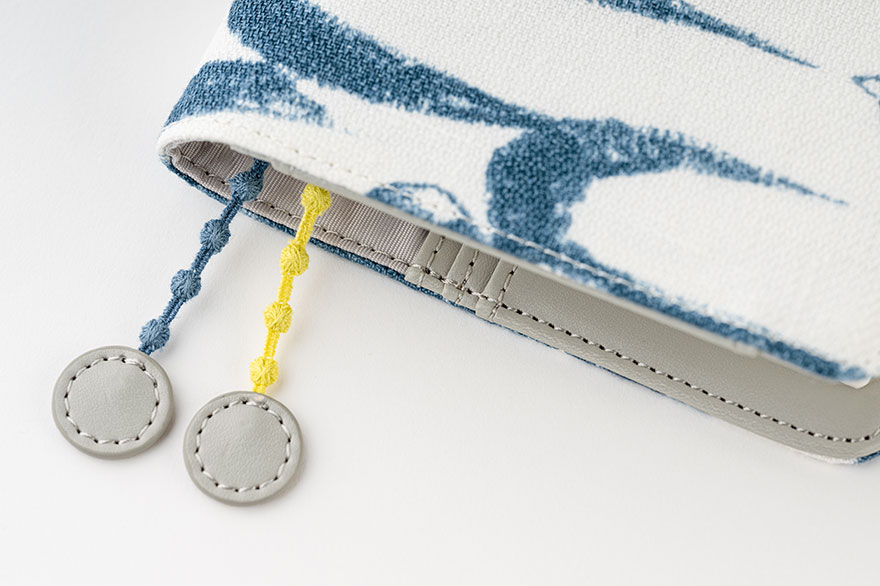 Each cover contains a unique arrangement of the pattern. We hope you enjoy your one-of-a-kind cover.
Book (Planner / English / January Start)
Size
A6 size
H: 148 x W: 105 x T: 14 mm / H: 5.8" x W: 4.1" x T: 0.6"
*Actual book size may vary slightly
Weight
Approx. 200 g
Language
English
Pages
448 pages
Paper Type / Binding
Thin, light Tomoe River paper resistant to bleeding and designed for planners / Stitch-binding
Graph Paper Size
4 mm
Start of Week
Monday-start week
Yearly Calendar
2023, 2024
Yearly Index
Dec. 2022 - Mar. 2024 (8 pages)
Monthly Calendar
Dec. 2022 - Mar. 2024 (32 pages)
Daily Pages
Jan. 1 - Dec. 31, 2023 (377 pages)
*A blank two-page spread is featured at the very beginning of the book to provide a free area when starting out the book.
*A page is included at the beginning of each month to help in planning ahead.
*Every two-page daily page spread includes one daily quote.
Daily Quotes
One quote per two-page spread (English)
Weekly Pages
Not included
Memo Pages
16 pages
Bonus Pages
Important Contacts / International Size Charts / Conversion Table / My 100 / Express Youself in Japanese / Anko - the Secret of Japanese Sweets / Personal Notes
Listed Information
Day of the year / Week of the year (listed on monthly calendars and daily pages) / Moon phase (daily pages include every phase, monthly calendars only include full and new moon)