---
Marine Stripes
A6 Size (fits Planner and Original)
Book (Planner / English / January Start)
This cover contains a sailcloth material printed with blue and white stripes for a strong marine theme. The durable material has also been treated with a water-repellent finish. This classic item has a timeless design that you can use for a very long time.

The skateboarding penguin and "Hobo" logo are printed on a tag to give the cover a sporty look.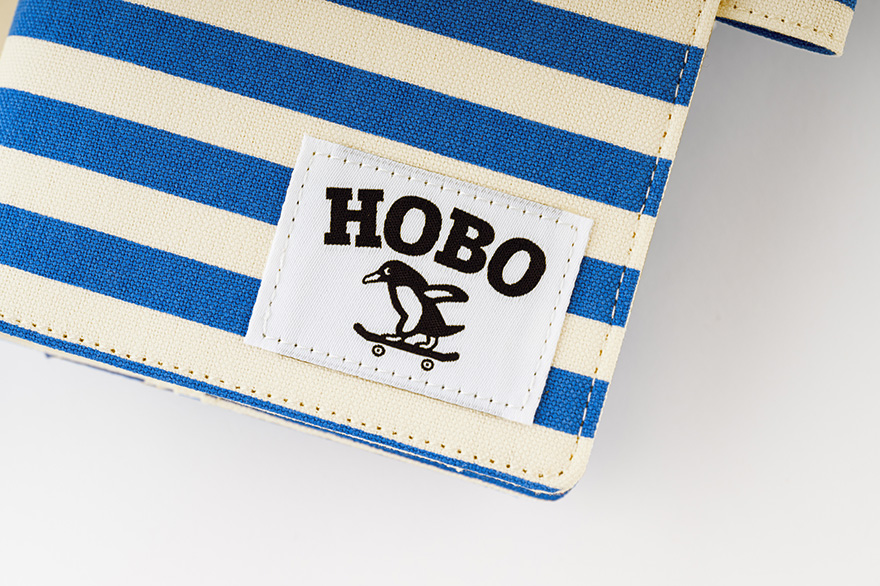 The butterfly stopper pen holders also have a striped designs. The cover has a refreshing look to it, even when it's closed.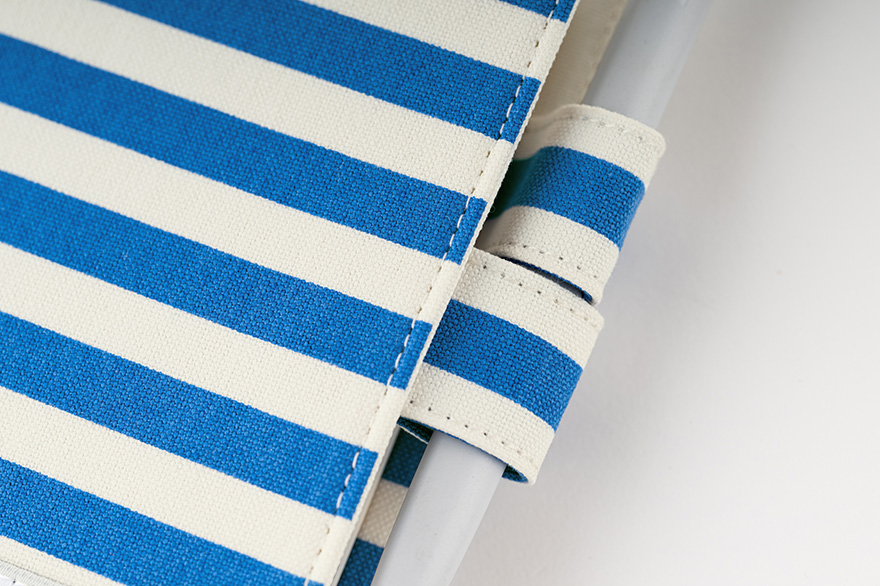 The two bookmarks are made of blue ribbon that have round white charms on the end stamped with H to signify Hobonichi.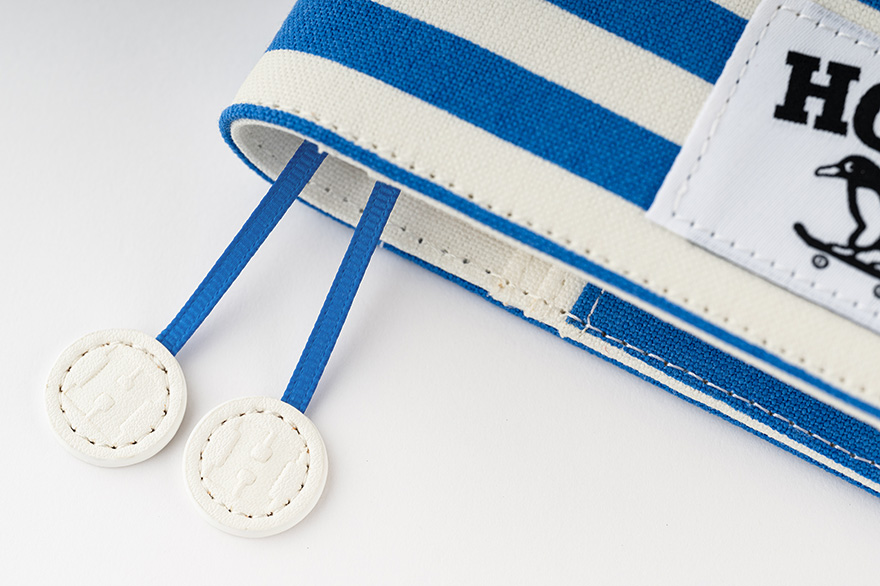 The cover interior has also been treated with a water-repellent finish that also protects it against dirt and grime. The cover interior is mostly white, but the ticket pocket has blue and white stripes.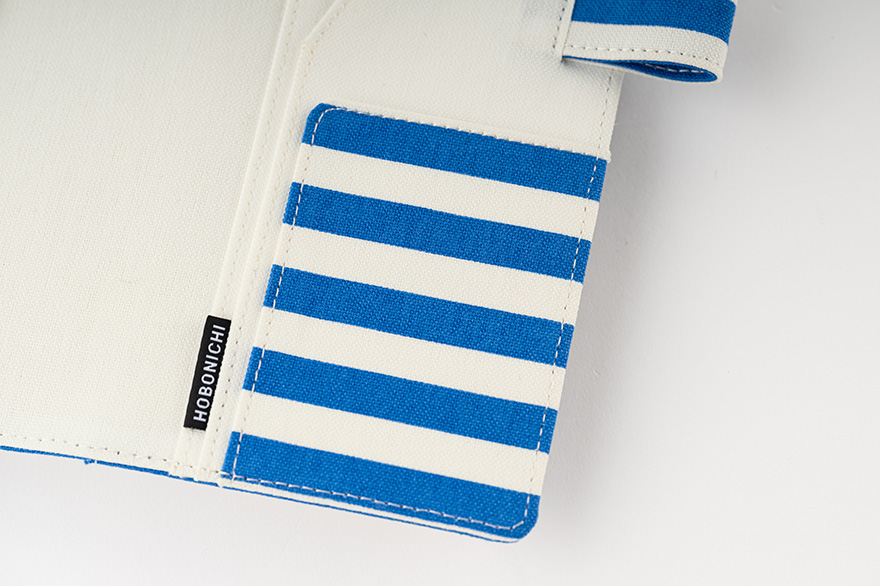 A penguin is peeking out from inside the smile pocket. Open the pocket a little further and you can see he's riding a skateboard, with the charming little phrase, "Nice!"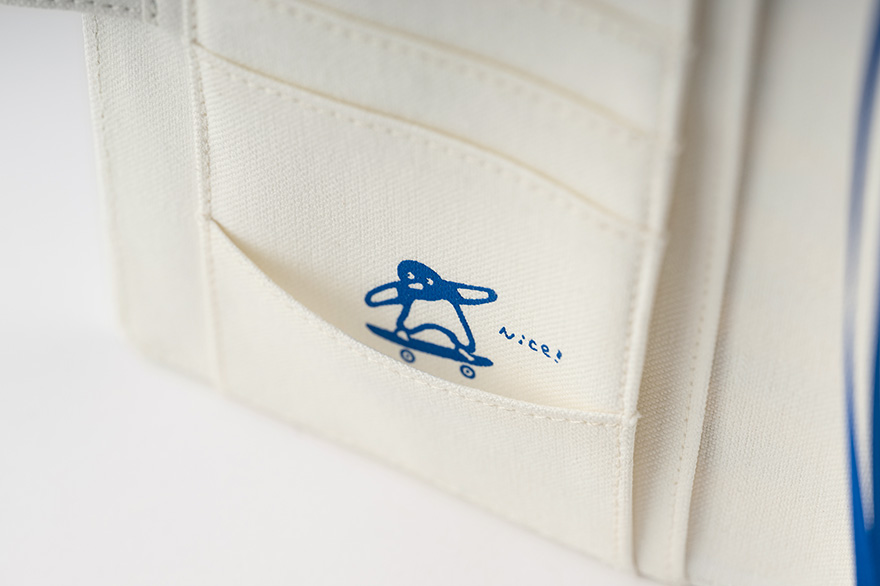 Marine Stripes uses Japan-made cotton sailcloth that's sturdy and lasts a long time. The material softens as you use it over time, so you can enjoy the way the texture changes. The fabric is treated with a water-repellent finish that can repel a modest amount of water. If you're at a place where it's easy to accidentally get your cover wet, such as setting it down on a wet spot on a cafe table, if you wipe off the cover right away it won't get stained. (The finish is not waterproof, so an excess amount of water may penetrate the gaps in the cloth texture.)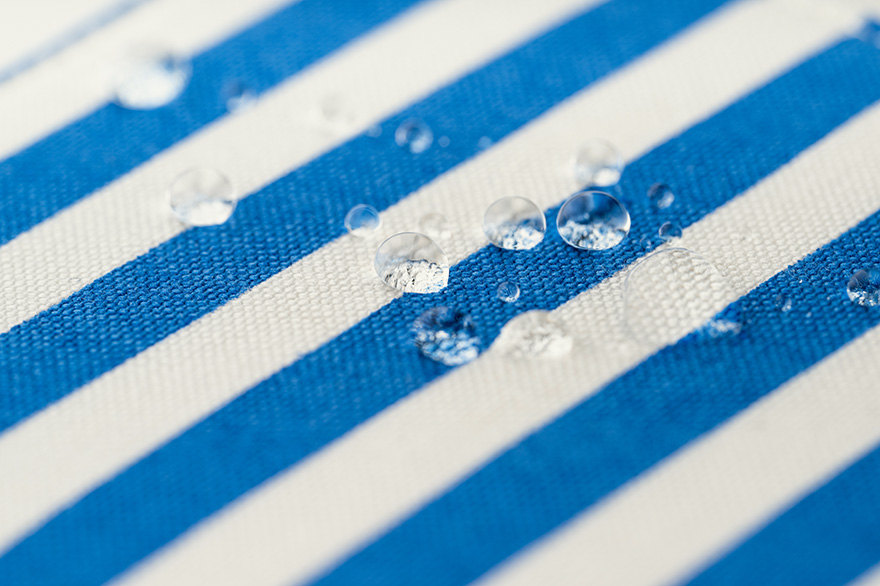 The Hobonichi Techo 2023 lineup includes a Deco Rush product with this original skateboarding penguin design on decorative tape. Simply pull a piece of this tape along your techo page to fill it with penguins in various poses.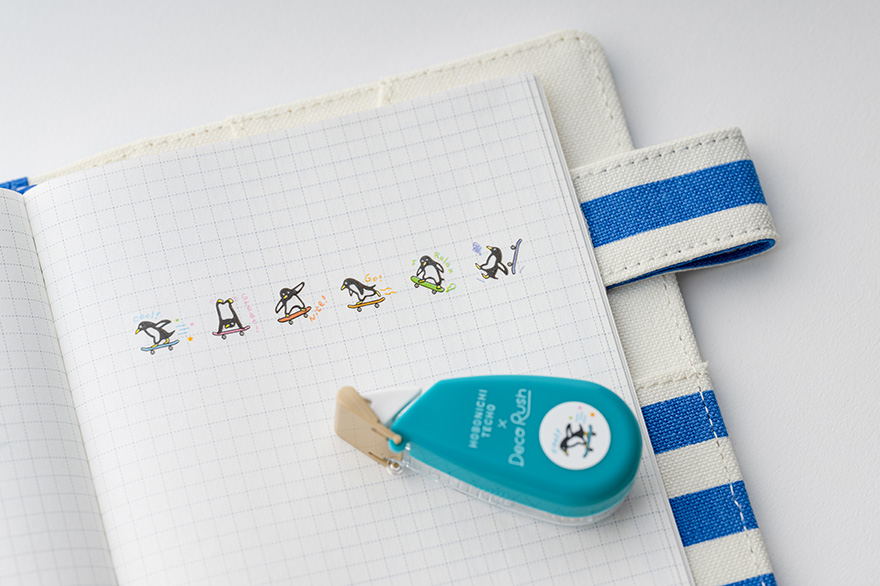 This marine design makes for a cover that's perfect for both those who want to be active and those who want to spend their time relaxing.
Book (Planner / English / January Start)
Size
A6 size
H: 148 x W: 105 x T: 14 mm / H: 5.8" x W: 4.1" x T: 0.6"
*Actual book size may vary slightly
Weight
Approx. 200 g
Language
English
Pages
448 pages
Paper Type / Binding
Thin, light Tomoe River paper resistant to bleeding and designed for planners / Stitch-binding
Graph Paper Size
4 mm
Start of Week
Monday-start week
Yearly Calendar
2023, 2024
Yearly Index
Dec. 2022 - Mar. 2024 (8 pages)
Monthly Calendar
Dec. 2022 - Mar. 2024 (32 pages)
Daily Pages
Jan. 1 - Dec. 31, 2023 (377 pages)
*A blank two-page spread is featured at the very beginning of the book to provide a free area when starting out the book.
*A page is included at the beginning of each month to help in planning ahead.
*Every two-page daily page spread includes one daily quote.
Daily Quotes
One quote per two-page spread (English)
Weekly Pages
Not included
Memo Pages
16 pages
Bonus Pages
Important Contacts / International Size Charts / Conversion Table / My 100 / Express Youself in Japanese / Anko - the Secret of Japanese Sweets / Personal Notes
Listed Information
Day of the year / Week of the year (listed on monthly calendars and daily pages) / Moon phase (daily pages include every phase, monthly calendars only include full and new moon)