---
MOTHER
My Friends
Weeks Hardcover Book
Weeks Book (English / January Start)
This Weeks book is based on Shigesato Itoi's 1989 game for the Famicom, MOTHER (EarthBound Beginnings in North America).

My Friends is made from the same fabric used in neckties. The cover is deep red and finely embroidered with characters from the first installment of the MOTHER series, including the main character Ninten and the other characters he befriends on his adventure: Loid, who is shy but smart; Ana, who is kind and has mysterious powers; and Teddy, a ruthless gang leader who was kind as a boy.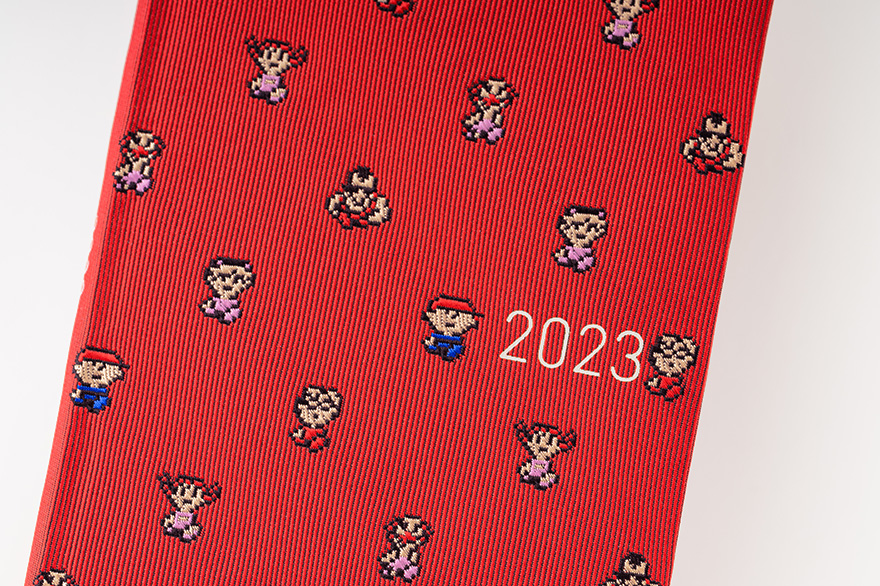 Other characters temporarily join your party on the way, and you'll spot them in the design too. Pippi, who got lost in Mother's Day and was saved by Ninten, and the brave warrior Flying Man, who came to Ninten's rescue in Magicant, both make appearances.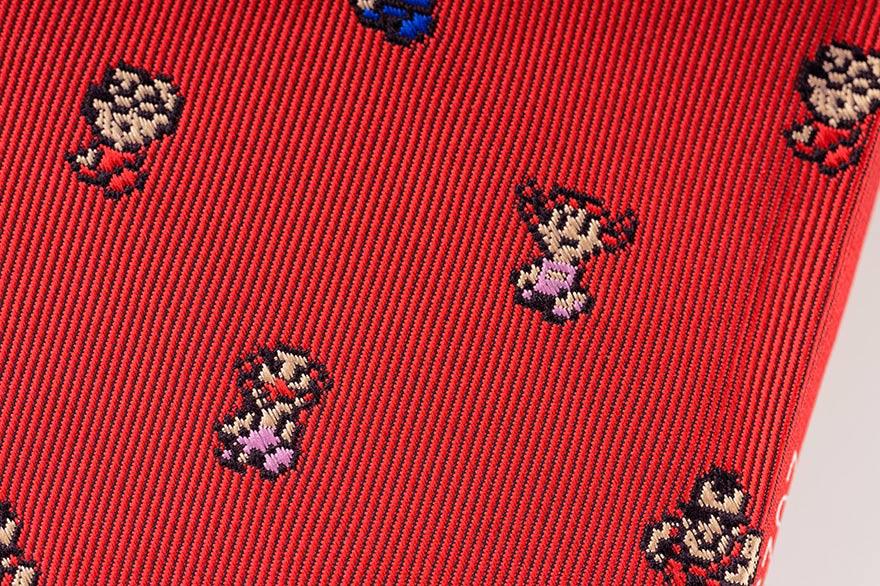 The necktie fabric gives the cover its characteristic soft texture and shiny look. The year 2023 is printed in white.

The cover has been constructed as a light, hardcover book with some give to it so it still bends. The corner of the endpaper when you first open the book contains the MOTHER logo.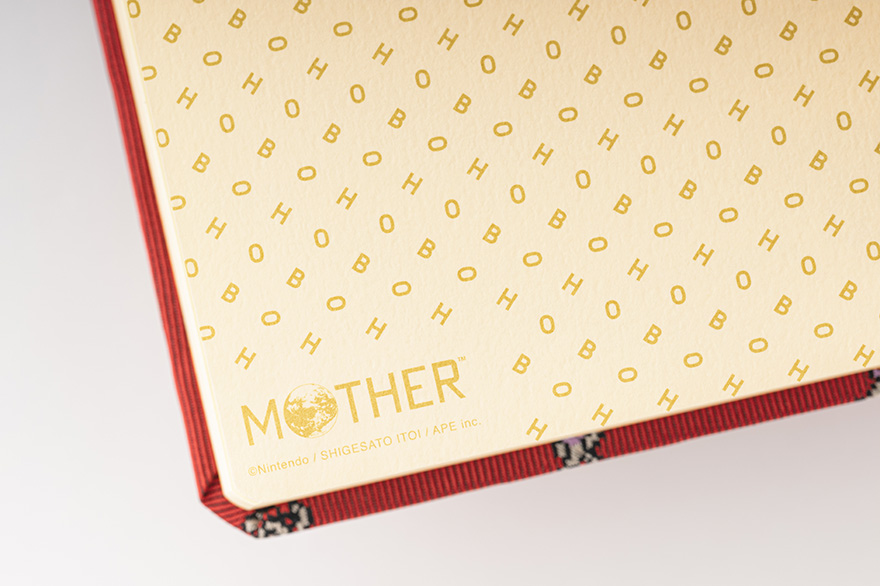 As a free bonus, this Weeks book includes a protractor, based on the item carried around from the start by one of MOTHER 2's protagonists, Jeff. The numbers are written in a pixelated font, and flying above Jeff in the middle of the protractor is none other than Bubble Monkey!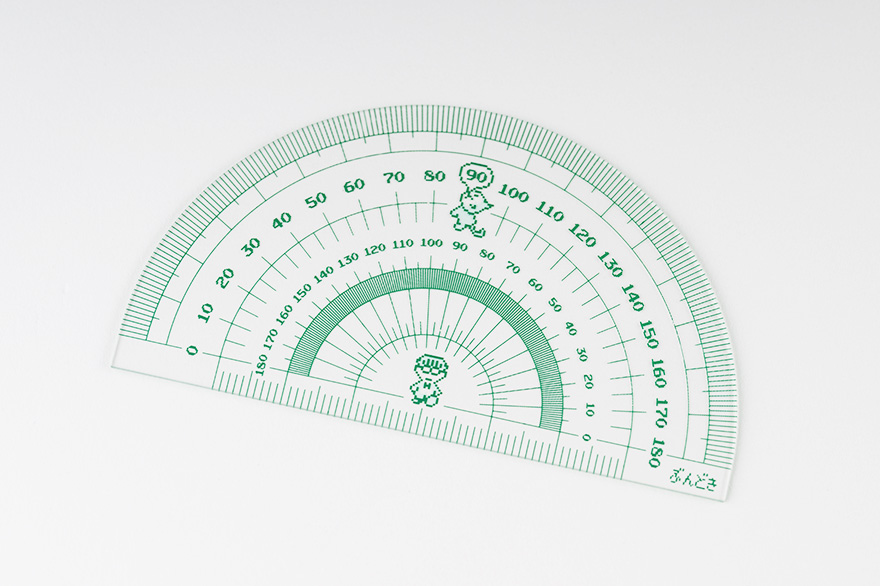 Keep this tucked in the pages of your Hobonichi Techo and you'll be able to fairly easily figure out the angles of various things. And yes, it's an item you can use multiple times.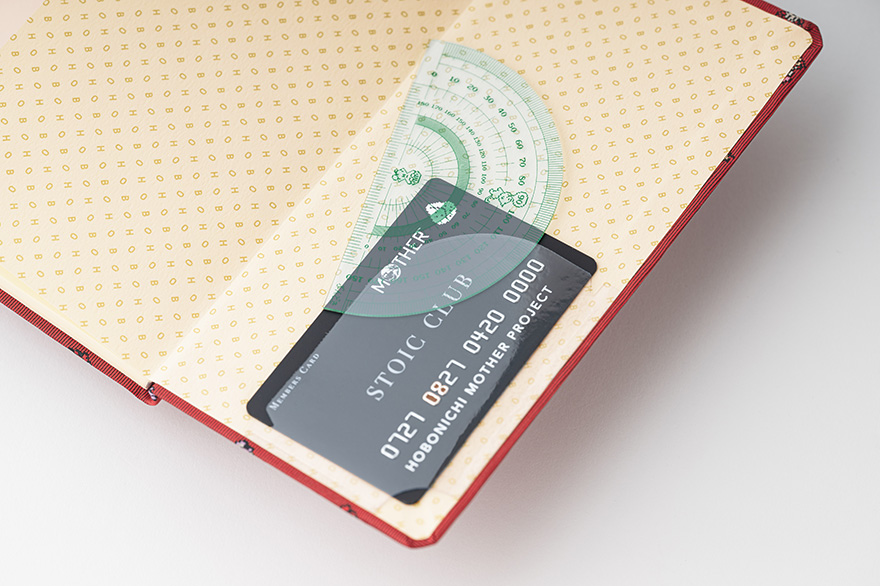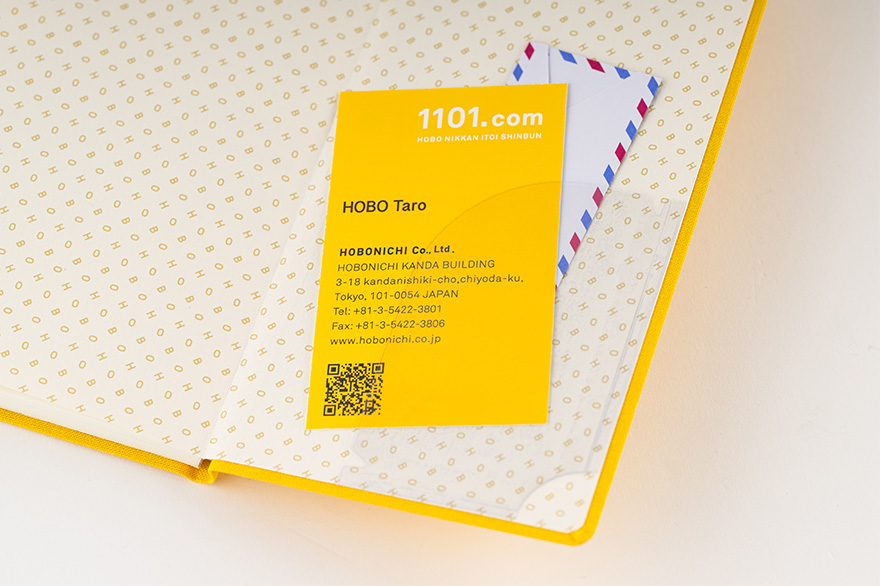 Weeks Book (English / January Start)
Language
English
Pages
240 pages
Paper Type / Binding
Thin, light Tomoe River paper resistant to bleeding and designed for planners / Stitch-binding
Graph Paper Size
3.55 mm
Start of Week
Monday-start week
Yearly Calendar
2022, 2023, 2024
Yearly Index
Jan. - Dec. 2023 (2 pages)
Monthly Calendar
Dec. 2022 - Mar. 2024 (32 pages)
Daily Quotes
One per week (English)
Weekly Calendar
Nov. 28, 2022 - Dec. 31, 2023 (114 pages)
*All weekly pages include quotes.

Graph Paper
75 pages
Bonus Pages
Shorthand Note-Taking / Using Common Items to Measure Size / Favorites / My 100 / My Favorite Things / How to Better Enjoy Conversation / 365 Days Check-Off Sheet / Contact List / Personal Notes

Listed Information
Week of the year / Moon phase (weekly pages include every phase, monthly calendars only include full and new moon)