---
Clean Color Real Brush Marker 24 Color Set
The real brush tips on these markers are ideal for illustrating and sketching on paper. Brush tip pen that produces thick and thin lines allowing artistic freedom.
The Kuretake Zig inks can also be paired with a water brush to create a beautiful range of shading and watercolor effects.
ZIG Clean Color Real Brush is a water-based dye with a single sided bristle brush tip.
The brush tip is very flexible making it easy to go from thin to thick lines in one stroke.
Clean Color Real Brush is a perfect tool for all types of art forms including manga art, cartooning, scrapbooking, rubber stamping, illustration, brush lettering, and card making.
The water-based dye is odorless and xylene-free. Conforms to ASTM-D4236 standards.
The 24-Color Set includes:
Black, Carmine Red, Pink, Light Pink, Blue, Cobalt Blue, Persian Blue, Green, Light Green, Olive Green, Deep Green, Pale Green, Yellow, Bright Yellow, Brown, Dark Brown, Orange, Flesh Color, Beige, Violet, Light Violet, Gray, Light Gray and Blue Gray.
How to use Real Brush


Hold the pen at an angle to color wide areas.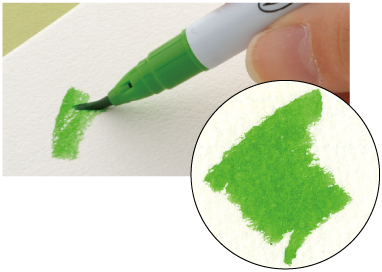 Hold the pen straight up to draw a line.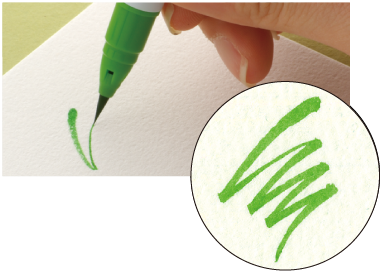 Use Water Brush Pen to blend.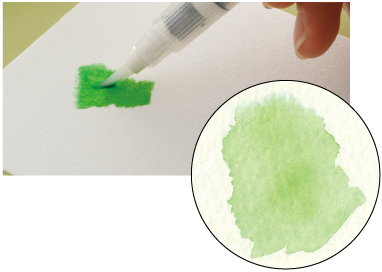 A whole spectrum of gradations with a single pen.

Wet the tip of the pen slightly with water to produce multiple gradations of one color.
Mixing colors
First apply one color, and before it dries add another color over it to create a color gradation.

Apply a darker-colored ink directly to the tip of a light-colored pen to create a gradation when you draw with the light color.